International Education Summit (IES)
The World Affairs Council – Cincinnati and Northern Kentucky hosts the annual high school event, International Education Summit (IES) each year during International Education Week (November 16-20, 2020). This year, they are hosting a virtual International Education Summit on "Peace and Justice." They are expanding to a week-long program and will be working with regional World Affairs Councils in Ohio, Kentucky, and Indiana to enrich their programming and expand the number of students, teachers, council members, and global citizens they reach.
IES raises student awareness about global issues and global careers. Students and teachers will hear from a diverse group of speakers representing governmental, community, business, and nonprofit organizations on this year's theme. They will also interact in small groups with local global professionals for a "Speed Networking" session where they can learn about global careers.
Part of Miami University International Education Week 2020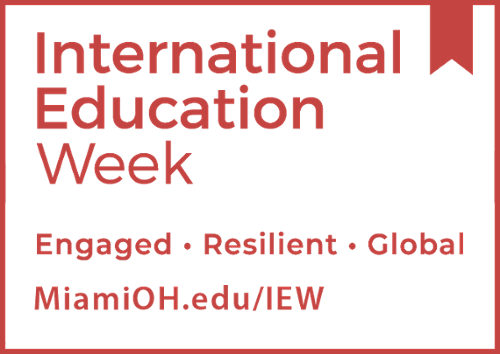 Dial-In Information
Event Schedule and Registration
Friday, November 20, 2020 at 9:00am to 2:00pm
Virtual Event
Event Type

Events by Audience

Events by Interest

Tags

Website